People & Career
CREMER Inside
What does a receptionist and administrator actually do?

18.03.2021
CREMER Magazine: Semra, you work at the reception and administration at CREMER. What are your three most important tasks?
Semra Demirci: At our front office, that is our reception in the Hamburg office, my colleague Felix and I are the first point of contact for customers, guests and employees. We make sure that everyone receives a warm welcome.
For colleagues, we are the number one point of contact for information and questions: The door doesn't work. We're out of coffee. I lost my transport ticket.. We always have an answer. We also make sure that courier and mail shipments are processed conscientiously and take care of general office organization.
CREMER Magazine: What should you bring for your job?
Semra Demirci: You should be open and communicative, helpful, friendly and open-minded. You should also be willing to do several tasks at the same time, while mastering the reception desk and the telephone with a smile.
In addition, you should be interested in learning new things, show initiative and self-interest.
You should be prepared to always have several tasks in mind at the same time, while mastering the reception desk and the telephone with a smile.

CREMER Magazine: Semra, you have been part of the CREMER crew since 2017. How did you come to CREMER?
Semra Demirci: I was placed here through a temporary employment agency, which gave me several jobs to choose from. CREMER was already a well-known name to me at that time, so I decided to start here. That was exactly the right decision. I found a great and inviting workplace, nice colleagues and I'm also thrilled with the central location of our office. We're right across from the main train station, so it's a quick hop to the bus and train - no matter where you live.
CREMER Magazine: What did you do before?
Semra Demirci: I worked in the superior hotel industry. I did my training at the "Vier Jahreszeiten" hotel in Hamburg, one of the most prestigious five-star hotels in Germany. After that, I went to Chicago for two years and worked there as a management trainee at the Hilton Hotel.
This taught me how to deal with difficult and demanding guests, how to resolve conflicts, how to respond to people and how to assess situations correctly. That also helps me in my current job.
CREMER Magazine: Two years in Chicago? Then you certainly speak fluent English.
Semra Demirci: Yes, I speak fluent English, German and Turkish. We are an international company, so people calling in usually speak English as well. We also handle our central e-mail address at the reception. At least 80 percent of the content is also in English.
I can also support my colleagues with my language skills. Sometimes they ask: "Can you translate that, please?" That always makes me very happy, of course.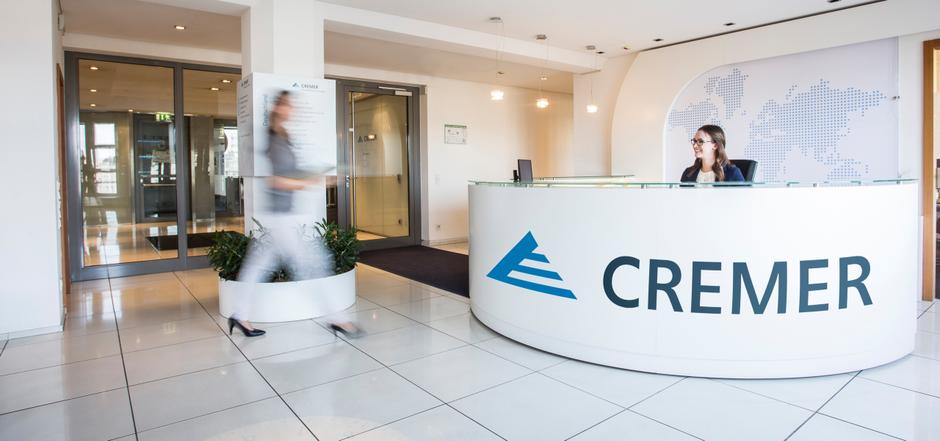 CREMER Magazine: What do you like most about your job?
Semra Demirci: I am a very open-minded and communicative person and like the contact with colleagues, guests, customers.
At the reception desk, you learn a lot about the company and you are always in the center of everything that's going on. I also particularly like organizational tasks around Christmas or birthdays. Every year we hold a "Julklapp", which is organized by the reception, and we take care of birthday presents and the organization of company anniversaries for colleagues.
I also think it's great that I have the freedom to devote myself to other projects in addition to my reception duties. Here at CREMER, a lot of trust is placed in me. For example, together with my colleague from the Finance Department, I am responsible for all global insurance policies for our branches. I am also the contact person for work safety in our company.
CREMER Magazine: You have a very diverse workday and deal with many different people every day. How do you adjust to each of them?
Semra Demirci: I think it's always essential to meet on the same level. In the hotel industry, the focus is more on service, while in a company, you interact more on an equal level. In general, you should be interested in people and be open and friendly.
CREMER Magazine: Semra, thank you for the insights into your day-to-day work.